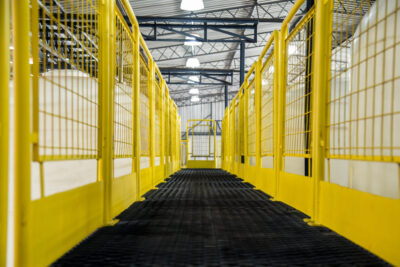 For years, businesses have used wood, steel, aluminum, and other materials for their industrial products. These materials are capable of getting the job done. However, they come up short in a number of ways as well. 
Then there's fiberglass. Fiberglass products offer most of the benefits of all these materials combined, and essentially none of the drawbacks. More and more, industrial products are being manufactured out of fiberglass, thus helping businesses to cut costs and optimize their operations. 
Wondering about the different industrial fiberglass products available to you? Then read on. We're going to discuss them in detail below. 
1. Fiberglass Molded Grating
When it comes to drains and air vents, a grate is often needed to keep large objects from falling into them. Traditionally speaking, this grating was made entirely out of steel. These days, however, there is fiberglass molded grating available. 
Fiberglass molded grating offers a number of benefits.
Not only is it extremely lightweight but strong and durable as well. It's also resistant to both corrosion and fire. Additionally, it's slip-resistant, enabling people to walk on it with little slip risk. 
Our fiberglass molded grating consists of 35% fiberglass and 65% resin. It comes in a wide variety of configurations and includes a number of different panel sizes. 
Molded grating, in particular, possesses a grid-style pattern. This allows for seamless trimming and fitting at the work site. To learn more about our fiberglass molded grating, click this link. 
2. Fiberglass Pultruded Grating
We've discussed molded fiberglass grating. Now, let's discuss pultruded fiberglass grating. 
This is grating that consists of a series of I shapes. These "I" shapes can interconnect with one another, allowing them to bear large amounts of weight. 
Our pultruded grading is constructed in the same general way as our molded grating. In particular, we construct it by pulling stands of fiberglass through a pool of resin. Once we've done this, we heat the materials to ensure that they're properly and securely cured. 
This fiberglass pultruded grating possesses an anti-slip surface, not to mention anti-corrosive properties. It can be used for a variety of purposes, including but not limited to ADA walkways and heavy-duty roadways. 
If you need grating that is structurally impressive and can hold substantial amounts of weight, look no further than fiberglass pultruded grating. Lightweight, durable, and easy to maintain, it's one of the strongest grating options in existence.  
3. Fiberglass Structural Shapes
Classic building materials aren't always sufficient for getting the job done. This is because they can't be fabricated to take on particular shapes. These shapes are often required to facilitate modern building practices. 
Fiberglass, on the other hand, can be fabricated to take on essentially any shape in existence. Whether it's a tube or a box or a small, intricate, oblong-shaped entity, it can be fabricated out of fiberglass. 
And when it's made out of fiberglass, it comes with all the benefits that fiberglass has to offer. These benefits include not only excellent toughness and durability but light weight, corrosion resistance, fire resistance, and more. 
4. Fiberglass Handrails
Handrails are important in industrial sites, not only because they provide support and balance but because they serve as barriers to potentially dangerous falls. Industrial handrails can be made out of any number of materials. That said, fiberglass handrails are the supreme choice. 
We create fiberglass-reinforced handrails that are lightweight, easy to install, and yet just as strong as their steel competitors. Resistant to corrosion, they thrive in all environments. 
It's also important to note that fiberglass is non-conductive. In other words, it doesn't attract electricity. This makes it the best choice for areas in which electrical shock is a higher-than-average possibility. 
5. Fiberglass Stairs
Another fiberglass product that you can take advantage of is fiberglass stairs. These stairs are made out of FRP (fiberglass-reinforced plastics). This material possesses a lightweight structural interior which is supported by a fiberglass exterior. 
This enables the material to provide tremendous strength and toughness, all while remaining light and easy to transport. But those aren't the only benefits of FRP. It's also anti-corrosive, not to mention resistant to electricity. 
And while FRP stairs may cost more upfront, they tend to be cheaper in the long run. This is because they're cheaper to install and don't require the level of maintenance that steel stairs require. 
We here at DEFI sell full FRP stair assemblies. These assemblies come with all of the parts needed to produce a full stair system and are already cut and drilled to allow for easy assembly. 
6. Fiberglass Catwalks
We'll round out this list by discussing fiberglass catwalks. We manufacture custom fiberglass catwalks for all purposes and can add special features to ensure that your catwalks meet industry standards and regulations. 
Because they're made of fiberglass, they're anti-corrosive, resistant to electricity, tough, strong, and easy to install. They consist of both fiberglass-reinforced grating and structural shapes. 
Our fiberglass catwalk kits come pre-cut and drilled, thus allowing them to be assembled with great ease upon arrival. If you wish, we can even equip them with flame-retardant and anti-slip capabilities. 
Looking to Purchase Industrial Fiberglass Products Now?
We've covered only a few of the many industrial fiberglass products out there. When it comes down to it, there is an endless number of industrial fiberglass products available. 
Looking to purchase industrial fiberglass grating products now? DEFI Structural Fiberglass has you covered. We sell everything from fiberglass molded grating to fiberglass structural shapes and more. 
Check out our selection of fiberglass industrial products now!